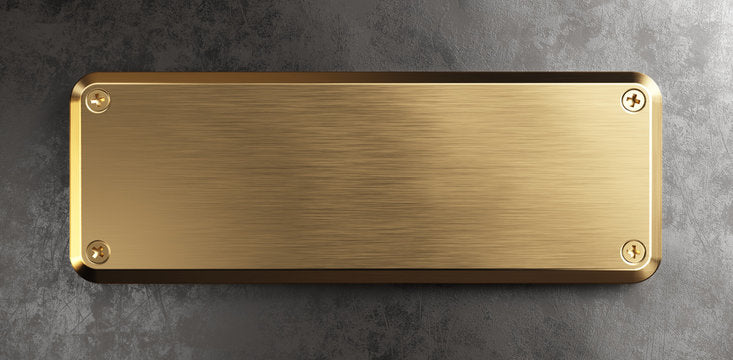 Endless Etc Engraving takes immense pride in offering you the beauty and functionality of engraved brass plaques and brass nameplates. Our veteran-owned company, with all our leather items and brass plates made in the U.S.A., is dedicated to providing impeccable quality, craftsmanship, and service.
In this ONSITE BLOG guide, we will delve into the world of brass nameplates, exploring their aesthetic appeal, durability, and the various applications that make them an excellent choice for both personal and professional use.
The Elegance of Engraved Brass Plaques
Engraved brass plaques are renowned for their timeless and classic appeal. When engraved with precision, the lustrous, golden hue of brass adds a touch of sophistication to any setting. Whether you're commemorating a special occasion, memorialising a loved one, or enhancing the aesthetics of your business, these plaques are a superb choice.
Durability that Stands the Test of Time
Brass nameplates are designed to endure the elements. Brass is a corrosion-resistant metal that can withstand rain, sunlight, and extreme temperatures. This makes them ideal for outdoor use, as they maintain their satin appearance and legibility for years. Your investment in an engraved brass plaque is an aesthetic choice and a practical one.
Versatile Applications
One of the most appealing aspects of outdoor brass nameplates is their versatility. Here are some of the various ways these plates can be used:
Memorial Plaques: Create a lasting tribute to a loved one by engraving their name and special dates on a brass plaque. These plaques can be placed in gardens, cemeteries, or other outdoor spaces to honour their memory.

House Address Plaques: Improve your home's curb appeal by displaying your house number on an engraved brass nameplate. It enhances the exterior and helps visitors easily locate your residence.

Business Signage: Boost your business's professional image with brass name plates that display your company name, and other important information. These plates are not only durable but also eye-catching.

Awards and Recognition: Recognize the achievements of individuals or teams with customized brass plaques. Their elegant appearance adds a sense of prestige to any award.

Historical Markers: Preserve the history of a location or commemorate a significant event with brass markers. They are a perfect choice for historical sites, parks, and museums.
Endless Etc Engraving: Your Trusted Partner!
The beauty of brass nameplates is more than just skin deep. These plaques combine elegance and durability, making them a worthwhile addition to any setting. As a veteran-owned company, Endless Etc Engraving is here to provide exceptional products and services that are proudly made in the U.S.A. Whether for personal use or to enhance your business, engraved brass plaques are a choice that will leave a lasting impression.
At Endless Etc Engraving, we take pride in providing you with high-quality engraved brass signage. Our commitment to quality and craftsmanship is reflected in every product we create. When you choose us, you're not just investing in a beautiful name plate but a piece of your history that will withstand the test of time.
We understand that each customer may have unique preferences or specific requirements. If you require a specific product or variation of an item, please email us, as we can accommodate more options than we can list. Your satisfaction is our priority, and we are more than willing to work with you to create a custom solution that perfectly suits your needs.
Choose Endless Etc Engraving for your engraved brass sign needs, and experience our products' timeless beauty and durability. Elevate your space with the enduring charm of brass nameplates!