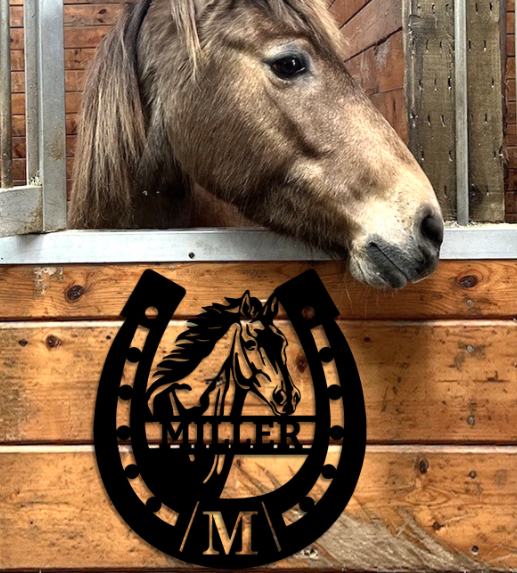 Welcome to the world of personalized equestrian elegance with Endless Etc Engraving! If you're passionate about horses and their well-being, you understand the importance of a comfortable, organized, stable environment. One subtle yet impactful way to enhance your horse's living space is through custom horse stall signs.
In this onsite blog, we'll explore how
signage for horse
stalls adds a touch of sophistication and contributes to the overall well-being of your equine companions.
Elevate Your Stable Aesthetics
• Personalized Elegance
Endless Etc Engraving offers a unique opportunity to infuse your stable with personalized elegance. Our horse stall signs are crafted with precision, featuring a type of materials and designs to suit your preferences. From classic wooden signs to modern acrylic options, we understand that every stable has its own character and our customizable signs are designed to complement that uniqueness.
• Quality Craftsmanship
At Endless Etc Engraving, we pride ourselves on delivering top-notch craftsmanship. Our signs are aesthetically pleasing and durable, ensuring they withstand the rigors of a stable life. Pick from various fonts, colors, and endings to create a bespoke stall sign that reflects your style and your horse's individuality.
Functional Benefits of Horse Stall Signs
• Efficient Organization
Signage for horse stalls goes beyond mere aesthetics; it contributes to the efficient organization of your stable. Clearly labeled stalls make it easier for stablehands, veterinarians, and other staff to identify individual horses quickly. This can be crucial in emergencies, ensuring prompt and accurate attention to each horse.
• Health Monitoring
Custom horse stall signs provide an excellent platform for health monitoring. Include important information such as the horse's name, dietary restrictions, and medical needs. This helps caretakers provide specialized care and fosters a sense of responsibility among the entire stable community.
Enhancing the Bond: Horse and Owner
• Personal Connection
Endless Etc Engraving understands that the bond between a horse and its owner is unparalleled. Our customizable stall signs offer a tangible representation of this connection. Display your horse's name proudly on a beautifully engraved sign, reinforcing the personal relationship you share with your equine companion.
• Training and Recognition
Horse stall signs play a crucial role in training and recognition. By consistently associating a specific sign with a particular horse, you contribute to their training and behavioral development. It also helps visitors, trainers, and other stable members quickly recognize and understand the unique characteristics of each horse.
Transform Your Stable with Endless Etc Engraving – Where Elegance Speaks!
In the world of equestrian care, every detail matters. Endless Etc Engraving is committed to enhancing your stable's comfort, aesthetics, and functionality with our custom horse stall signs. Elevate your stable living experience by investing in quality craftsmanship and personalized elegance.
Discover the endless possibilities at Endless Etc Engraving today, transforming spaces!